Dear friends,
What better way to use these last days of the year than to look back and think about the highlights of 2021? In this blog post I'd like to share with you my favourite books, series, music and software of the past year. But first I'd like to acknowledge the obvious: this has been a very challenging year for the cultural sector, with more lockdowns and cancellations. I am therefore grateful that, despite being in lockdown, Dutch National Opera gave us the opportunity to rehearse and create my opera Upload in the first months of the year. It was so inspiring to finally be able to work again, and meet with a great artistic and technical team on a daily basis. We got to premiere the opera over the summer at the Bregenz Festival, and performed the Dutch premiere at Dutch National Opera in October. I'm thrilled by the wonderful critical and audience reception (reviews are here).
I hope my fellow artists and performers will be allowed the opportunity to work and perform again in 2022.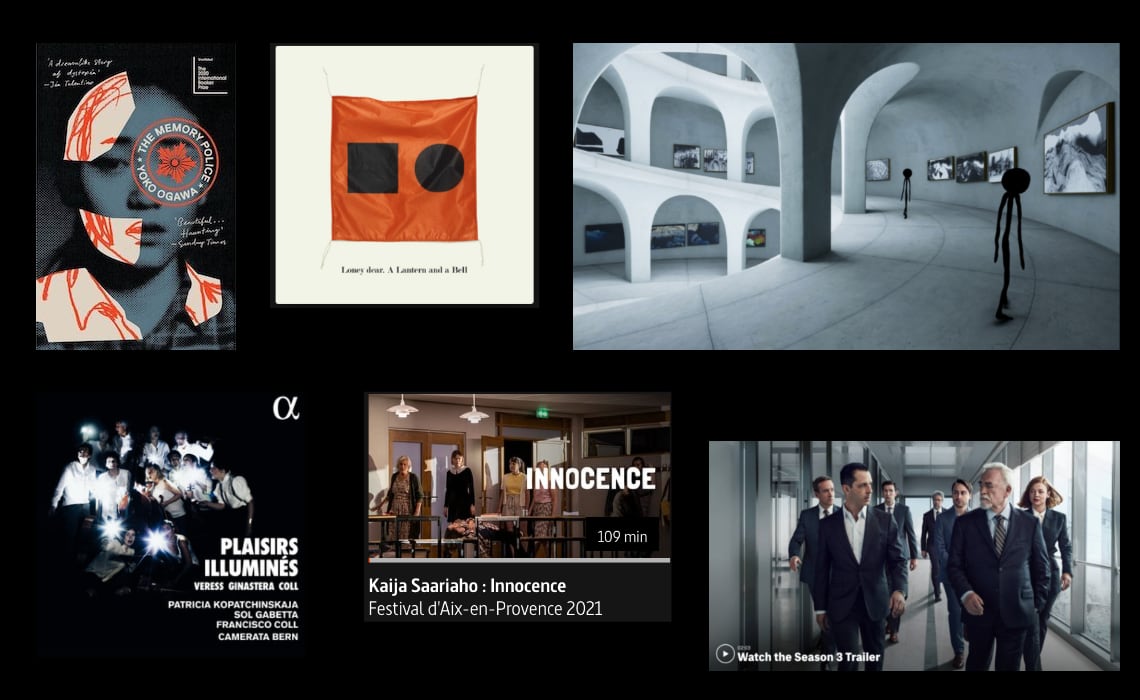 Now for the tips I promised:
I haven't read as much as I wanted this year, somehow the situation in the world made it hard for me to concentrate. I resorted mostly to fiction. The House of Leaves by Mark Z. Danielewski was a wonderful and thought-provoking read. It's very hard to pin down its genre; horror, romance, satire, the format and structure of the book is unconventional, with unusual page layout and style. I was also quite struck by The Memory Police by Yoko Ogawa, a surreal fable about the power of memory and the trauma of loss. The graphic novel Karmen by Guillem March stood out as well, especially because of the amazing artwork (the texts are sometimes leaning a bit too much towards cliches).
Due to the lockdowns and cancellations I didn't get to see much live music. A highlight for me was Innocence, the new opera by the brilliant Kaija Saariaho. I watched the stream on ARTE and am looking forward to seeing it live when it is produced in Amsterdam. The new Loney Dear album A Lantern and a Bell stood out in my Spotify stats ("Trifles" is ♥️). I also quite enjoyed the catchy An Evening With Silk Sonic, and Plaisirs illuminés with the brilliant Patricia Kopatchinskaja and Sol Gabetta.
My favourite TV series this year by far was Succession. Brilliant script writing, wonderful actors, cringeworthy and funny. I also really enjoyed The White Lotus (great score!), and sci-fi series Foundation, based on Isaac Asimov's books.
The App of the year for me is Craft (Mac/iOS); a note-taking app on steroids. I love its clean and focussed design and the integration with the iPhone and iPad apps. I started using Craft about a year ago to organise my thoughts and ideas, and have since then ported my entire Notion library over to Craft.
Radiohead and Stanley Donwood teamed up with Epic to create KID A MNESIA, a gamified exhibition of their Kid A and Amnesiac albums. I think it's really exciting to see what's possible when music, visual arts and gaming are combined to create something greater than the sum of the individual parts. I can't wait until these kinds of artworks are possible in VR. Check it out, it's a free download (you do need a beefy PC or Mac to cope with the graphics).
Finally, I'm not a huge gamer but I did spend quite a few hours on the Quest 2 hitting virtual balls in Walkabout Mini Golf. Rather addictive and relaxing. 🙂
Anyway, here's hoping that things will look up for the world and the art scene in particular in 2022. I don't know if we can handle another year of cancellations…
I'm looking forward to continuing the tour of my opera Upload (New York in March and Cologne in April), and the VR installation Eight (Helsinki in August), as well as the Japanese premiere of my Violin Concerto and new performances of the double concerto Akin. I'm working on a new music theatre piece (The Book of Water) that will be premiered in September 2022. I will spill the beans in the next newsletter!
Wishing you all a happy and healthy 2022. Love, Michel
–
PS if you like to receive blog posts like this in your inbox, you can subscribe to my newsletter here. The newsletter is sent on average 6 times a year.