"A masterly weaving of music, film and motion-capture technology" – New York Times
"A production that everyone must see" – Parool
★★★★★ "Highly original […] Fantastic music" – NRC
★★★★★ "Unimaginably stunning beauty" – Trouw
★★★★★ "I have seldom experienced opera more intimately" – Bachtrack
What if our minds could live forever? Recent advances in artificial intelligence and neuroscience mean that we will soon be able to map our memories and experiences, and to use these data to build a digital consciousness identical with our own. These 'whole brain emulations' will be able to carry on indefinitely after our deaths: a way of virtual resurrection. But where do our identities really reside? In our minds, our bodies, or our relationships? And how far do the data of our lives determine our fate?
Upload tells the story of a daughter and her father who, when confronted by his inevitable death, has his thoughts and memories "uploaded" to achieve an eternal digital consciousness. The deeply emotional work poses age-old philosophical questions—about fate, identity, the cost of immortality, and the ethics of technological advancement—that take on new significance against a backdrop of present-day and near-future technologies.
Upload is set across two timelines: in flashbacks, a film projected onstage documents the origins and practicalities of the "uploading" procedure. In the present day, live motion-captured projections represent the father's digital avatar, which interacts with the daughter in real-time as she copes with her loss and is forced to make difficult decisions about her father's future existence.
Upload is commissioned by Dutch National Opera, Opera Cologne, Park Avenue Armory New York, Bregenzer Festspiele, doubleA foundation, and Ensemble Musikfabrik.
In November 2022, Upload won in the Best Digital Opera category at the International Opera Awards held in Madrid. Begun as part of the Dutch National Opera's 'Opera Forward' festival, the opera's live premiere had to be postponed due to the Covid pandemic, but a film version was put together and made available soon after. It was awarded the Best Digital Opera prize by a jury of international opera professionals, headed by the editor of Britain's Opera magazine. The film version of the opera can be viewed on Medici tv, Marquee tv, and Takt1.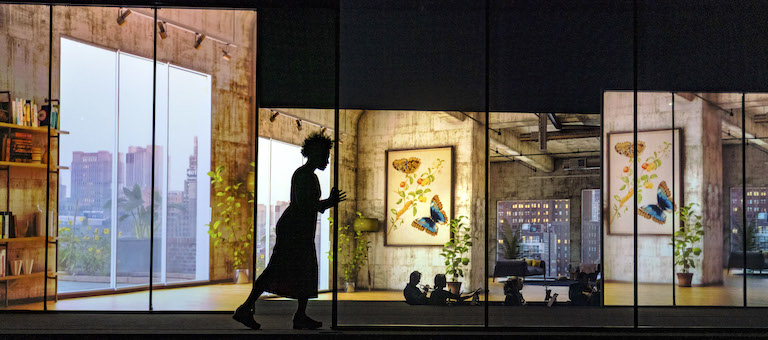 Cast, stage
Julia Bullock – daughter
Roderick Williams – father
Ensemble MusikFabrik, cond. Otto Tausk
Cast, film
Katja Herbers
Ashley Zukerman
Esther Mugambi
Samuel West
Claron McFadden
David Eeles
Tessa Stephenson
Extras: Mimmie Idenburg, Hank Botwinik, Sylvia van der Meis-Strauss, Stephane Fructus, Dorien Cudogham, Annelein Greveling, Tamara Friedman, Yannick Hulsebosch
Team
Michel van der Aa – Composer, director, libretto
Otto Tausk – Musical director
Theun Mosk – Scenography & light
Elske van Buuren – costume design
Madelon Kooijman, Niels Nuijten – Dramaturges
Joost Rietdijk – Director of Photography
Darien Brito – Motion capture and real-time graphics
Tom Gelissen – Sounddesign
Simon Hendry – Play-out operator
Julius Horsthuis – VFX Supervisor & Fractal Artist

Djoere de Jong – Production Manager
Siemen van der Werf – Technical director
Rosita Wouda (doubleA foundation) – Financial director